Dog Grooming – A Beginner's Guide To Safely Using Dog Clippers
One of the scariest things many new dog owners may think about in regard to dog grooming, is cutting or shaving their dog's hair using dog clippers. You may fear that you might hurt or cut your dog during the process but the truth is the process can be easy and very safe as long as you read and follow the clipper instructions and you know how to position your dog during the process.
So today, we will be giving you some tips and tricks to help you get acquainted with the idea of clipping your dog's hair.
Check out these tips below.
Dog Grooming : How to Use Dog Clippers
"When using dog clippers, it's important to use a table in which the dog can be comfortably positioned and possibly restrained. Find out how to hold dog clippers at the correct angle with help from a professional dog groomer as seen in this video below on dog clippers."
Original Source: http://www.youtube.com/watch?v=LFtdPtnghm4
A Beginner's Guide to Buying and Using Dog Clippers
"When you begin clipping, work on an inconspicuous area first. Test your skill and your dog's tolerance. Make slow, short cuts at first, then work up to a professional level as you (and your dog) adjust to the process."
Original Source: http://www.petsadviser.com/grooming/beginners-guide-buying-dog-clippers/
How To Use Your Dog Clippers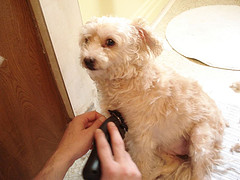 "Always keep the clipper blade flat against the body otherwise you may end up cutting the dog. The blades are very sharp and can easily cut your dog's skin if they are not kept level. The danger spots for cutting into the skin is on the legs and the very thin folds of skin as you stretch the leg out however unless you are careful it is possible to cut the dog anywhere on the body."
Original Source: http://diydoggrooming.com/grooming/use-clippers/
As you can see it's not actually that scary, you just need to choose the right dog clippers for the dog grooming process as well as position your dog properly so they don't get hurt in the process.
Just remember that safety should always come first and if you think you can't handle your dog's behavior during the process, then gradually get your dog to be acquainted with the clippers first and don't rush the process.
Happy clipping.